Cross-country fun
11.01.2018
Sports & Leisure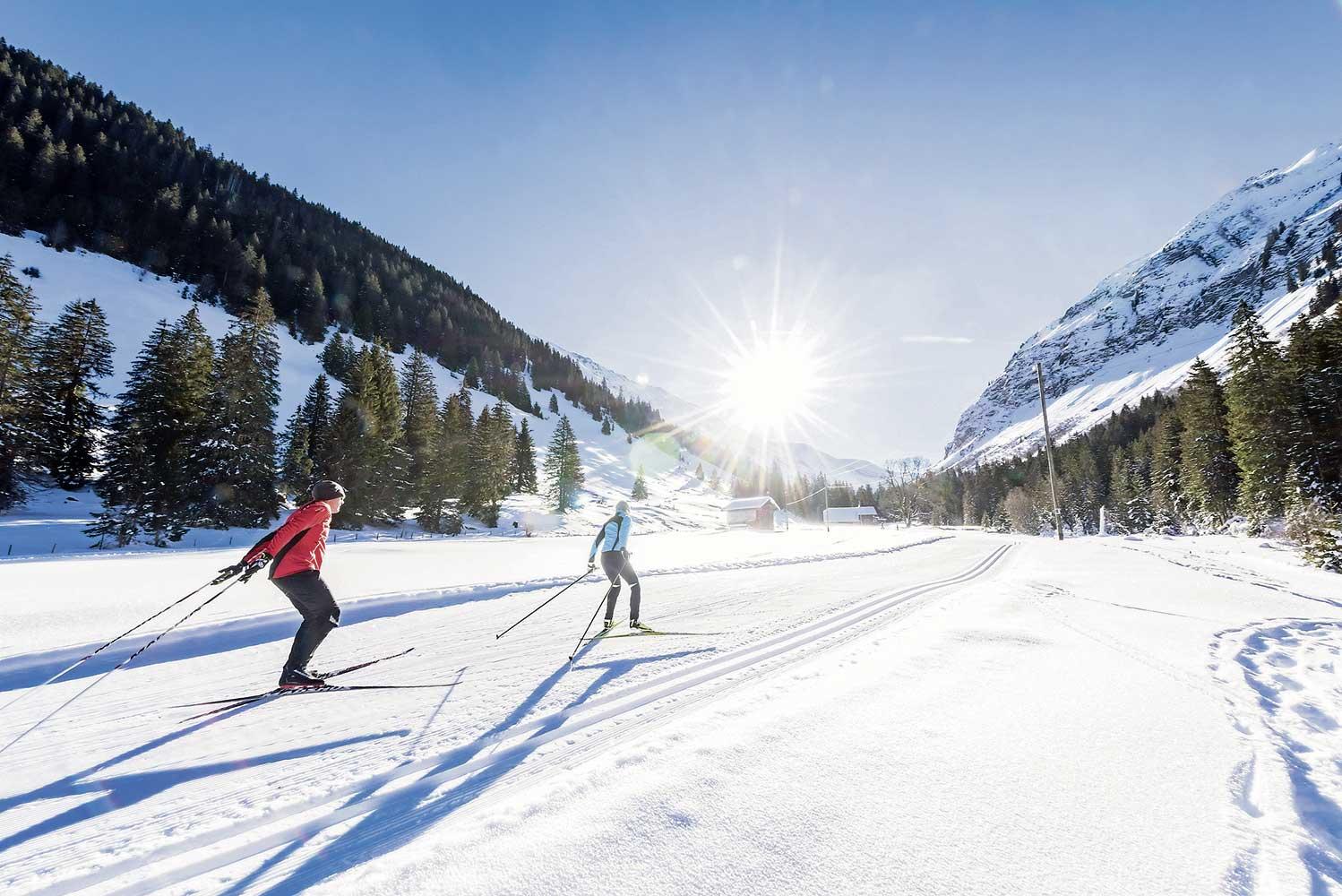 But there's another version of the sport that offers comparable enjoyment and at least twice the exercise, while still paying heed to the original form of this most historical of winter arts. That is, of course, cross-country skiing.
The Saanenland area abounds in sharply-cut classic tracks and spaciously-groomed skating lanes suited for all experience levels, guaranteed to satisfy any aspiring Dario Cologna or Nathalie von Siebenthal. The following is a brief, back-of-the-napkin sketch of the local offerings, all of which provide both classic and skating trails.
Schönried – Saanenmöser
There are a total of 10km classic and 8km skating trails between the villages of Schönried and Saanenmöser, with multiple beginner (blue) and intermediate (red) variants and 65m of vertical climb. An advanced-level (black) option via the Wittere ups the vertical to 150m for sturdier types. Skiers with dogs are allowed on two blue sections, and Schönried opens floodlit night trails during the season from 6-10pm. To raise the pulse a bit, check out the waves and troughs of the 1.5km blue Langlauf ski-cross track in Schönried.
Gstaad – Feutersoey – Gsteig
Enjoy 15km of prime, meditative, let-your-mind-roam skating and striding in the restful scenery of the Saane river valley, with a moderate climb over distance to Gsteig. Bus connections are accessible at either end and at points en route for those with buyer's remorse, or if one finds their recreation threatens to bleed over into their evening plans.
Lauenen
The pristine Rohr nature reserve provides the backdrop for 8km of blue classic/skate track surrounded by richly-forested foothills and awe-inspiring mountain peaks. Launch from the Hotel Alpenland into the crystal-clear air, and experience the variety offered by two separate loops, laid out specifically for beginners and nature lovers.
Turbach – the Nathalie von Siebenthal practice trail
If you see a dark blur streak past you on the 113m climb from Turbach to Wintermatte, it may be 2015 FIS U23 World Champion Nathalie von Siebenthal of Lauenen, as she trains for yet another podium finish this season. Compare your time with hers at three different points along the
6.5km route, and brace yourself for the results.
Sparenmoos
High above Zweisimmen, the Sparenmoos plateau delivers reliable snowpack for 3km of red and 10km of blue classic/skating, and 17km classic black trails, with dramatic panoramic views of the craggy peaks encircling the upper Simmental valley. Begin and end your day at the Buvette MUMA (named after the ancient Chinese expression for skis, "wooden horses").
Zweisimmen – St Stephan – Lenk
The nearly 14km route gently climbs 140m along the river Simme from Zweisimmen to Lenk, with outstanding views of the picturesque Simmental valley. Reverse the route for a tranquil lope back to the centre of Zweisimmen. Easy train and bus connections to each of the towns on the trail allow maximum flexibility in your langlauf itinerary.
Glacier 3000
At nearly 3,000 meters above sea level, the view at Glacier 3000 can literally take your breath away. On a clear day, you can see 24 summits over 4,000 metres from the top station, including the Matterhorn and Mont Blanc. As one of the only cross-country ski areas in Europe open year-round (depending on conditions), the Tsanfleuron glacier offers almost 7km of ultra-scenic classic and skating with 150m vertical.
Full details on each trail and track condition reports can be found on the Gstaad Saanenland Tourismus website at: www.gstaad.ch/en/active/winter/cross-country-skiing">http://www.gstaad.ch/en/active/winter/cross-country-skiing or for Sparenmoos at: www.sparenmoos-aktiv.ch">http://www.sparenmoos-aktiv.ch
Alex Bertea
---