On the Road with Bugatti -- Local Car Enthusiast & his Classic Supercars
15.09.2015
Archiv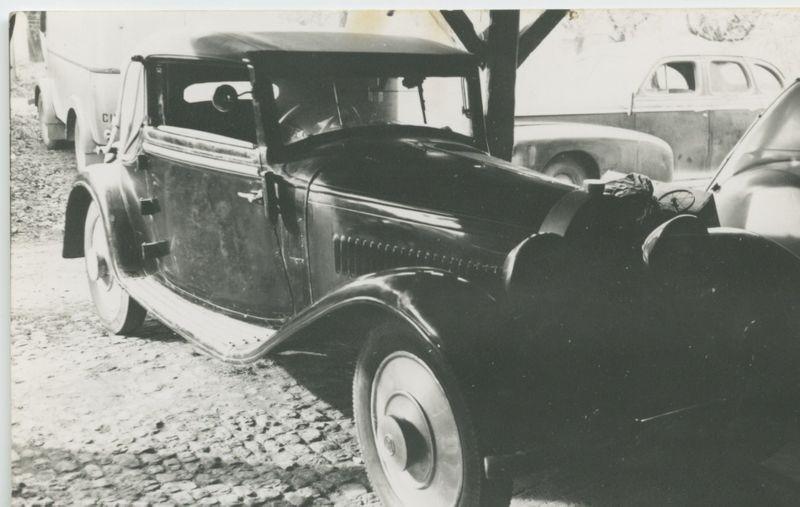 Photo: Hans Matti
By Hans Matti
Gstaader Hans Matti shares the story of his lifelong passion with Bugatti cars:
If you were around Gstaad this past winter, you may have noticed the striking Bugatti supercars displayed in the roadside showroom of the new Bettlerhaus on the downtown promenade. One of the Veyron models was the standard 1001 horsepower supercar and the other was the Supersport version boasting 1200 horsepower. But these two handsome Veyrons on show this winter on the promenade were not the first Bugattis in Gstaad. The history of these classic cars in the Saanenland goes back to my early obsession with automobiles.
Planes, Trains, and Bugattis
I was born in Gstaad in 1937 at the far end of the Oberbort neighborhood on the Turbach side. When I was a small child during World War II, life here in the Saanenland was much like it had been in the 19th century; the locals produced everything by hand.
There were almost no motorcars–fewer than ten in the whole of Saanenland, driven by such distinguished personages as doctors and other local luminaries, the only people provided with gas allowances. What conveyances there were came in living form; my immediate surroundings boasted cows, horses, goats, pigs, and chickens.
But the military airport in Saanen provided me with endless entertainment. The landing loop of the planes coming in for landing passed just above our old farm, and I could observe the planes swooping in at only 100 feet above ground. Thus my fascination with planes was born. I dreamed of becoming a pilot. But between school, studying, and a lack of time and money, that dream proved unrealistic.
So I transferred my affections to the motorcar. After spotting seven Bugatti cars in Walter Messerli's scrap yard in Kaufdorf, I set my sights on one of them, but Walter would not sell any of them. Note: Today you can see those classic cars today in the French Musée de l'Automobile, part of the Schlumpf collection in Mulhouse, France.
Calling All Bugattis
So in 1959 I ran an ad in the Swiss Automobile-Revue for a Bugatti car. At least ten people responded to the ad, and I was offered at least ten cars. But I could just afford one–I decided on a type 44 drop headcoupe (chassis 44'1326). The body was designed and built by Alexis Kellner of Berlin in 1930.
The car stood forlorn under a cover in the used-cars lot of a small garage in Oberburg near Burgdorf. The car was a bit scruffy, flush with all the patina of the last 30 years. On the plus side, it was all original and in decent running condition. The deal was quick. I paid the CHF 1650 asking price by closing the bank-booklet my parents and relatives had sacrificed to build on my behalf over the years. I remember that my father was not at all happy to see this money disappear into an old car.
But the garage owner who sold the car was so happy to have sold that old car–one that nobody else really wanted anyway in those days–that he offered me a new battery for free, just to seal the deal.
The next step: Get a temporary plate in order to transfer the car to Gstaad. At that time I attended ETH in Lausanne, where there was nowhere to store the car. My father found a place next to the house of Anita Moratti (widow of his late friend Marcel Moratti) who lived in Gschwend. The plate was fixed to the car and off I went to Gstaad, planning to take the Burgdorf-Thun-Spiez-Zweisimmen-Saanenmoser route.
The Art of Racing in the Rain
This was early in November 1959. It was the first time ever that I drove a Bugatti car. The weather was wet and dull and in Zweisimmen it began to snow, that fresh snow which you all know is slippery like soap. Worse, the tyres were all but new; they had almost no thread left. Even today I do not know how I got to Saanenmöser. The car slid sideways all the time, but finally with a lot of luck I got to Gstaad and parked the car next to Anita Moratti's house. In order to protect it during the winter to come, my father helped me build a wooden shelter around the car.
Fast, Faster, Fastest
My love affair with that first Bugatti was short-lived. In the summer of 1960 I decided I should have a Bugatti racing car, so I sold the type 44 and bought a Bugatti Grand-Prix car–a car that I still own today (Chassis 4655/4751).
It's been a long ride in my Bugattis, but it's been one heck of a ride. I encourage you to take a spin in the classic car of your choice sometime soon.
Note: The type 44 shown in this article has survived and resides now with a collector in Switzerland.
.................................
Bugatti -- Automobile History in the Making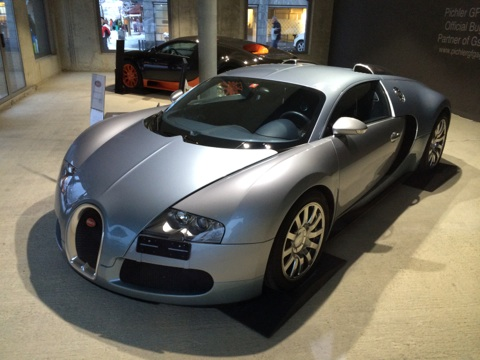 Photo: Frank Muller
By GSTAADLIFE
Bugatti has had a tumultuous history as far as car companies are concerned. Yet the brand has been revived several times in the just over 100 years it has been in production. Bugatti was founded in 1909 by Ettore Bugatti in Molsheim, Alsace, which was then a part of Germany (the city is now known as Mulhouse, France) But Ettore Bugatti was no Henry Ford–he had no desire to mass-produce automobiles or arm each family with a new form of transportation.
Born in 1881 in Milan, Bugatti grew up in a cultured, artistic family; his father Carlo was a painter, sculptor, and furniture maker who had an eye for beautiful form and exquisite detail. He encouraged the young Bugatti to study art, but at age 17 Ettore discovered his passion for the automobile and decided to become an engineer. His first design, a petrol-powered tricycle, won a design competition and inspired him to reach further with the prototype for a car.
In 1909 Bugatti set up production in Molsheim and at that time also decided to create a small, light-weight vehicle to drive the Le Mans race. It took second place, and inspired Bugatti to continue to design race cars. In 1922 his cylindrical model known as "le Cigar" took second prize at the AFC Grand Prix and the new models and prizes kept coming for the next decade. Automobile historians agree that his designs were visionary for the time. His four-speed gearbox, four-cylinder overhead-valve engine were just two of the details that made his cars unique.
Next came a big change for the company; Bugatti's Type 41 Royale, the big-engined car, the most expensive in the world to build, nearly bankrupted the company at the start of the Great Depression. However the French government had him turn the design into a train, which became the first Autorail. The company saw success with their newfound train production, but tragedy struck in the 30's when Bugatti's son and future successor Jean died testing one of their race cars.
Bugatti ceased production of automobiles and Ettore died in 1947. Without an heir, the company withered and was finally sold to Hispana Suiza, an aircraft company. In 1984 it was sold again to an Italian entrepreneur Romano Artioli who released a new super car in 1991 for the company's 110th anniversary. Finally, in 1998 Volkswagen took over the brand, which was then in bankruptcy, and used it to revive its luxury line.
To this day, the company continues to release new models in limited production, and remains a very exclusive, pricey choice for discerning collectors.
---